Medications

ED

Hair Loss

Weight Loss

Cosmetic

Sexual Health

Skin Care

Stendra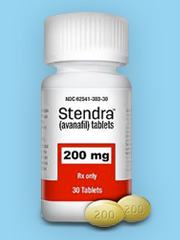 STENDRA is an oral medication for erectile dysfunction (ED). It helps most men with ED improve their erections.


How to take Stendra®
You may take Stendra ® with or without food. In order to work most effectively; Stendra® should be taken 30 minutes prior to sexual activity. Do not take Stendra® more than one time a day and only take this medication as advised by your physician.
Understanding the Potential Side Effects Associated with Stendra ®
Stendra ® may cause mild side effects. The most common include flushing of the skin, runny nose, back pain, headache and sore throat. Drinking more than three alcoholic drinks a day may cause dangerous side effects including dizziness, increased heart rate or lowered blood pressure. If any side effects become particularly troublesome or do not dissipate with time, be sure to notify your physician right away to make sure that you are not having an adverse reaction to the medication.
Safety Warnings
Prior to beginning your Stendra® regimen, you will need to discuss your comprehensive medical history with the prescribing physician. Men with certain medical conditions will not be good candidates for Stendra ®. These most commonly include conditions like heart failure, irregular heartbeat or angina. If you take the heart medication known as "nitrates," or street drugs called "poppers" you should not take Stendra ®.
Additionally if you have had heart surgery within 6 months, have suffered a stroke, had an erection lasting over 4 hours or have an abnormal curvature of your penis (Peyronie's disease) or blood cell related problems like sickle cell anemia, leukemia or multiple myeloma, these conditions must be discussed with your physician prior to starting any type of erectile dysfunction medication.
Potential Interactions
Stendra ® cannot be taken by those taking alpha blockers (with the exception of Flomax ® 0.4mg) or those using recreational drugs known as "poppers" (including butyl and amyl nitrate). All medications, both over the counter and prescription must be disclosed to your physician.
Storing Stendra ®
Store your Stendra ® medication in a dry place out of direct light. Stendra ® should be maintained at room temperature and should be placed out of reach of children. Stendra ® should also never be shared with anyone.
Warning
Stendra ® does not protect against or prevent the spread of STD's such as HIV, Chlamydia or Hepatitis.



Patent Pending: 60/481641



Copyright © 2022 NetDr.com. All rights reserved.