Medications

ED

Hair Loss

Weight Loss

Cosmetic

Sexual Health

Skin Care

Finasteride 5mg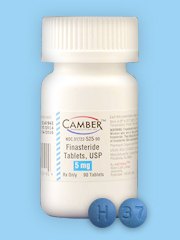 FINASTERIDE 5MG (Generic Proscar) is a pill used for the treatment of male pattern hair loss.


Warnings/Precautions
Before taking this medication, tell your doctor if you have liver disease. You may not be able to take Finasteride, or you may need a lower dose or special monitoring during treatment. Finasteride is intended for men use only. Finasteride is not indicated for women use. Do not take or handle this medication if you are pregnant or are could become pregnant during treatment. Finasteride is in the FDA pregnancy category X. This means that it is known to cause birth defects in an unborn baby. Women who are or who may become pregnant must not handle crushed or broken Finasteride tablets. The medication could be absorbed through the skin. Finasterideis known to cause birth defects in a developing male baby. Exposure to whole tablets should be avoided whenever possible however exposure to whole tablets is not expected to be harmful as long as the tablets are not swallowed. It is not known whether Finasteride passes into breast milk. Finasteride is not intended for women use. Do not take this medication if you are breast-feeding a baby.
Missed Dose
If you miss a dose of Finasteride and you remember the same day, take it as soon as possible. If you do not remember until the next day, skip the missed dose and go back to your regular dosing schedule. Do not take 2 doses at once.
Possible Side Effects
Stop taking Proscar and seek emergency medical attention if you experience an allergic reaction (difficulty breathing; closing of the throat; swelling of the lips, tongue, or face; or hives).
Other, less serious side effects have been reported but usually resolve with continued treatment. Continue to take Finasteride and notify your doctor if you experience:
-decreased libido (sex drive);
-decreased volume of ejaculate;
-impotence (trouble getting or keeping an erection); or
-breast tenderness or enlargement.
Side effects other than those listed here may also occur. Talk to your doctor about any side effect that seems unusual or that is especially bothersome.
Storage
Store Finasteride at room temperature between 59 and 86 degrees F (15 and 30 degrees C) in a tightly closed container, away from moisture.
Overdose
Seek emergency medical attention if an overdose is suspected. Symptoms of a Finasteride overdose are not known.
More Information
DO NOT share Finasteride with others for whom it was not prescribed. DO NOT use Finasteride for other health conditions. Keep this product out of the reach of children. If using Finasteride for an extended period of time, obtain refills before your supply runs out.
Disclaimer
This drug information is for your information purposes only, it is not intended that this information covers all uses, directions, drug interactions, precautions, or adverse effects of your medication. This is only general information, and should not be relied on for any purpose. It should not be construed as containing specific instructions for any particular patient. We disclaim all responsibility for the accuracy and reliability of this information, and/or any consequences arising from the use of this information, including damage or adverse consequences to persons or property, however such damages or consequences arise. No warranty, either expressed or implied, is made in regards to this information.



Patent Pending: 60/481641



Copyright © 2022 NetDr.com. All rights reserved.