Medications

ED

Hair Loss

Weight Loss

Cosmetic

Sexual Health

Skin Care

Cialis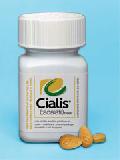 CIALIS is a prescription medicine taken by mouth for the treatment of erectile dysfunction (ED) in men. LOWER PRICE GENERIC CIALIS (TADALAFIL) IS AVAILABLE . SAVE NOW!


Warnings/Precautions
Cialis can cause your blood pressure to drop suddenly to an unsafe level if it is taken with certain other medicines such as nitrates and alpha-blockers, and recreational drugs that contain nitrates called "poppers". A sudden drop in your blood pressure could cause you to become dizzy, faint, or have a heart attack or stroke. Until you are certain how you are affected by Cialis, use caution when driving or operating heavy machinery. Cialis contains some lactose and should not be taken by patients who are lactose intolerant. Also, during treatment you should avoid grapefruit juice. Taking Cialis with grapefruit juice can increase your chances of experiencing undesirable side effects. If you are taking medications with nitrates or nitric oxide, have uncontrolled blood pressure (high or low), or if you have a history of stroke or heart attack DO NOT take Cialis.
Missed Dose
Take the missed dose as soon as you remember it. However, if it is almost time for the next dose, skip the missed dose and continue your regular dosing schedule. Do not take a double dose to make up for a missed one.
Possible Side Effects
The most common side effects with Cialis are headache, indigestion, back pain, muscle aches, flushing, and stuffy or runny nose. These side effects usually go away after a few hours. Patients who get back pain and muscle aches usually get it 12 to 24 hours after taking Cialis. Back pain and muscle aches usually go away by themselves within 48 hours. Call your doctor if you get a side effect that bothers you or one that will not go away.
Storage
Store Cialis at room temperature between 59 and 86 F (15 and 30 C).
Overdose
In cases of overdose, standard supportive measures should be adopted as required. Hemodialysis contributes negligibly to Cialis elimination.
More Information
Do not change your dose of Cialis without talking to your doctor. Your doctor may lower your dose or raise your dose, depending on how your body reacts to Cialis. Do not drink alcohol to excess when taking Cialis (for example, 5 glasses of wine or 5 shots of whiskey). When taken in excess, alcohol can increase your chances of getting a headache or getting dizzy, increasing your heart rate, or lowering your blood pressure.
Disclaimer
This drug information is for your information purposes only, it is not intended that this information covers all uses, directions, drug interactions, precautions, or adverse effects of your medication. This is only general information, and should not be relied on for any purpose. It should not be construed as containing specific instructions for any particular patient. We disclaim all responsibility for the accuracy and reliability of this information, and/or any consequences arising from the use of this information, including damage or adverse consequences to persons or property, however such damages or consequences arise. No warranty, either expressed or implied, is made in regards to this information.



Patent Pending: 60/481641



Copyright © 2022 NetDr.com. All rights reserved.