Medications

ED

Hair Loss

Weight Loss

Cosmetic

Sexual Health

Skin Care

Sildenafil Citrate (TP)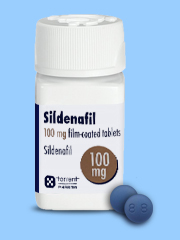 SILDENAFIL CITRATE (Generic Viagra) manufactured by Torrent Pharma, is an oral medication for erectile dysfunction (ED). It helps most men with ED improve their erections.


Greenstone, Torrent and Teva are all authorized by the FDA to sell generic Viagra in the US.
Online Consultation
Accurate information is required before any physician can write a prescription for any illness or condition. A U.S. licensed physician will review your online consultation and either approve or decline your prescription. If you are declined there will be no charge to you. If you are approved, you will be charged only for the cost of your product and its associated shipping fee, there are no hidden costs.
Precautions
Before using Sildenafil Citrate (Generic Viagra), tell your doctor your medical history, including any allergies (especially drug allergies), any penis conditions such as fibrosis/scarring, history of painful or prolonged erection (Peyronie's disease or priapism), sickle cell anemia, blood system cancers (such as leukemia or myeloma), eye problems (retina diseases). kidney or liver disease, bleeding disorders or active stomach ulcers, heart diseases, stroke or severe high or low blood pressure. Limit alcohol intake, as it may aggravate side effects of this drug. To avoid dizziness and lightheadedness when rising from a seated or lying position, get up slowly. The elderly may be more sensitive to the side effects of this drug, therefore caution is advised.
How to take this medication
Sildenafil Citrate (Generic Viagra) is taken by mouth as needed between four hours and one-half hour before sexual activity (about one hour before is most effective). Take only as directed, usually once daily as needed. Sildenafil Citrate works along with sexual stimulation to help achieve an erection. Headache, flushing, stomach upset, nasal stuffiness, diarrhea and dizziness might occur. If these effects persist or worsen, notify your doctor promptly.
Directions for Sildenafil Citrate
Directions for Sildenafil Citrate (Generic Viagra):
Follow the directions for using this medicine provided by your doctor and/or pharmacy. This medication will come with pre-printed information. Read this information carefully and ask your doctor or pharmacy any questions you may have about taking this medication. Store this medicine at cool temperatures away from heat and light.
NEVER EXCEED THE RECOMMENDED DOSE without checking with your doctor, DO NOT TAKE THIS MEDICINE MORE THAN once a day, DO NOT TAKE THIS MEDICINE IF YOU TAKE OR USE NITROGLYCERIN OR OTHER NITRATE DRUG FOR CHEST PAIN OR HEART PROBLEMS, including nitroglycerin tablets, patches, or ointment, OR OTHER NITRATES, such as isosorbide. If you are not sure whether a certain medicine is a nitrate, contact your doctor or pharmacist, THIS MEDICINE WILL NOT PREVENT the spread of sexually transmitted diseases (STDs), including Human Immunodeficiency Virus (HIV). BEFORE YOU BEGIN TAKING ANY NEW MEDICINE, either prescription or over-the-counter, check with your doctor or pharmacist. Contact your doctor or seek immediate emergency medical attention for any ERECTION LASTS 4 HOURS. A sustained erection can damage the penis. Refrain from further sexual activity and notify your doctor it you develop dizziness, nausea, pain, tightness, discomfort, numbness, or tingling in the chest, arms, legs, neck, or face at the start of sexual activity.



Patent Pending: 60/481641



Copyright © 2022 NetDr.com. All rights reserved.